Benefits of Working Out with a Buddy at Baobab Village
Makes the workout more enjoyable. 
Reduces the anxiety and stress often associated with exercise.
Burn more calories with a buddy than by yourself.
Assistance with performing exercises correctly.
More likely to achieve your goals.
Holds you accountable.
Makes it easier to try new things!
If you have never been to a Baobab Experience, bring a buddy and come check us out. We guarantee you will be able to experience these buddy benefits!
Secrets to a Peaceful Marriage
Want to know a few secrets to a peaceful marriage?
Secret ONE: Peace comes when you treat your relationship with the Improvisation Mantra of "YES AND…" NOT "Yes, but…"
Yes AND suggests you are listening and considering what is being offered by your spouse; AND, you desire to build on it with what you have to offer, always seeking to be in the moment and looking for cohesive connection opportunities.
"Yes, but" is dismissive and tells the lie that you are considering his/her side when in fact you just are waiting for the window to present YOUR side, your way, your pre-fashioned outcome.
Approach each exchange with your spouse as a "YES AND" opportunity and expect good things to happen!
Secret TWO:
Peace comes when we accept the limitations of others. Sometimes we expect too much and impose unrealistic expectations  on others thus priming the stage for disappointment. Learn to meet people where they are at and come alongside them for the journey. Stressing over the limitations of others will SPILL over into your marriage and manifest emotionally, mentally, physically or spiritually. It's called daily baggage and it is often inadvertently dumped on the spouse.
Secret THREE:
Peace comes when you CEASE trying to get your spouse to change. You don't have the tools to make this happen. When we cease trying to get others to change—we can offer alternative ways of handling and or viewing a situation but ultimately we must rest in the fact that the decision for someone to change is NOT our problem to own.
Do you seek daily to find opportunities in the little things to connect with your spouse or are you often stuck in yesterday's list of disappointments as you begin each day anew? Not saying this is easy, but a big step is to become aware and take action. Perhaps the assistance of a marriage enrichment group or coach may go a long way to helping you and your spouse produce the fruit of peace in your marriage.
Seek peace in your marriage and pursuit diligently. Love and live well!
In good health,
©March 2018
Baobab Village Wellness Group
Practical Tools for Managing Stress and Anxiety
This Saturday we are offering our first Overcoming Stress and Anxiety Group. To wet your whistle with upcoming content, take a look at this graphic illustrating the pathways that lead to stress and anxiety.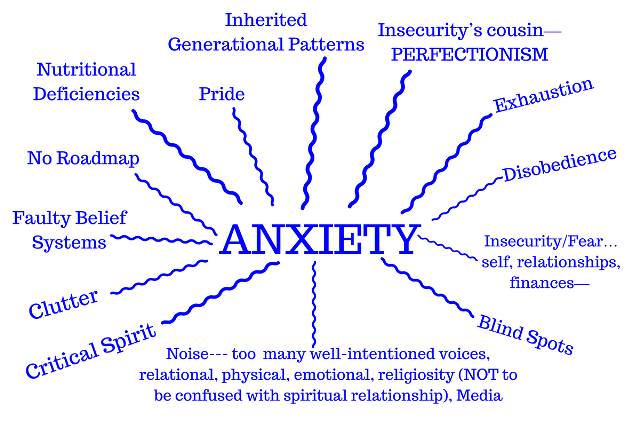 Did anything hit a nerve? If so, we welcome your presence this Saturday at 11:00 AM for an opportunity to receive practical tools to STOP stress and anxiety from blocking your progress.
DETAILS:
• Ongoing OPEN group meets every 4th Saturday
• Can come as often as you like or need
• Groups are led by a licensed therapist
• Cost is $25.00 per session.
• Call or email 24 hours in advance to reserve your spot — [email protected], 614-626-4983
In good health,

Ask the Coach/Counselor
Q: I am really struggling emotionally this holiday season. I really don't feel like going anywhere, much less decorating. Is this normal? Should I be concerned? What should or can I do to lighten this emotional load?
A: Stress and seasonal depression are VERY normal during this time of year and for many reasons. For some, it may be the shorter days. For others, memories of a lost loved one will surface causing a sense of anguish and despair.
There is hope and help. 
Tips on HOW to lighten the emotional load.
Reach out. If you feel lonely or isolated, seek out a religious or social community to congregate with. Volunteering your time to help others can do wonders for uplifting your spirit as well.
Acknowledge your feelings. If someone close to you has recently died or you can't be with loved ones, realize that it's normal to feel sadness and grief. Its's OK to take time to cry and express your feelings.
Take a breather. Make some time for yourself.
Find a moment of humor. Watch a comedy. Go see a clean comedian. Look up corny jokes online and LAUGH. Even when you don't feel like laughing, especially if your current circumstance is no where near funny, laughter can prove to be QUITE medicinal! 
"There's no right way to feel; all feelings are a sign that you're human and reflect where you are in your healing process."- Mayo Clinic
Are you struggling with grief? Baobab Village is hosting its first Grief and Recovery Support Group on December 30th at 11am. There is no charge for registration but we are asking attendees to call (614) 626-4983 or email [email protected] to confirm attendance. 
Another key to beating winter BLUES and BLAHS…
Boundaries.
How can examining my healthy boundaries connect with the yucky seasonal blues and blahs?
Unusual connection, eh? 
Boundaries help keep us on task and thus move us closer to achieving our goals. When you refuse to consistently enforce necessary boundaries with YOURSELF, your family, your friends, your job, etc., you will find yourself in a constant state of chasing your tail or delaying progress, at best.
Last time I checked: Chasing my tail DID NOT yield a sense of euphoria!
Chasing my tail and unnecessarily delaying progress top the chart when it comes to triggers for the BLUES and BLAHS!
Enforcing your boundaries will require saying NO more often than you like and perhaps to people you really want to please and say yes to. It will necessitate you saying YES more often to yourself and will challenge you to KILL the guilt associated with saying YES to self. Will this be hard at first? Of course! But the more you build that NO muscle, the stronger you will become, and the easier it will be.
Set boundaries around your time, your priorities, your health, your rest, your joy, your peace, etc. If people and or things are infringing upon those boundaries and preventing your from living your best in all areas, then its time to have some tough and quick (don't drag it out) conversations in love. Start with you and remind yourself that YOU MATTER.
You don't ALWAYS:
• need to work more than 45 hours per week, especially if it is compromising your wellness goals (which always should include rest).
• need to pass up on eating the basic amount of food and drinking the basic amount of water because of the demands of a project or person.
• have to volunteer for the group project or go out with the person/or just because they asked you to.
• have to be the GO TO for event planning or family organization and/or problem solving— unleash EMPOWERMENT and let someone else have a crack at it.
• be the (your name here) Bank of America for family and friends
You get the picture.
Pick that thing that KEEPS getting in the way, identify the boundary that needs to be enforced, and do it!
As you begin to enforce those health boundaries, get ready to experience a new level of peace and joy, AND watch the blues and blahs disappear!!!
Need help establishing and enforcing boundaries? Give us a call--our counselors and/or coaches are ready to help you!
In good health,
Is Your Family Sabotaging Your Progress?
Do you often feel like your fitness and/or nutrition goals are often thwarted inadvertently (or on purpose) by the distractions of family and friends?
You are not alone if you do. When you finally make the decision to take on a new goal and change a major part of your life, it is often hard for family and friends to TOTALLY get on board and understand what this means for their lives. They will still expect you to do things that conflict with your success like eat out at a restaurant that doesn't have the choices that will keep you moving in the right direction. OR bring all kinds of nonsense and foolish in the form of cookies, chips (or whatever your THING is) and expect you to stay strong and get over it!
It doesn't work that way. In order for you to be 100% successful without as little stress as possible, the loved ones you are around the most have to make a semblance of a sacrifice and offer the support you need.
If you want your family/friends to get on board with your journey:
• share your goals and what it means for everyone as a family
• tell them how they can benefit from you accomplishing your goals
• (If relevant) tell them how you would love it if this is something you can do together, but you respect if they are not ready at this time
• Get them to sign a support agreement and POST it for all to see on a regular basis.
Here is a sample support agreement template:
Family Agreement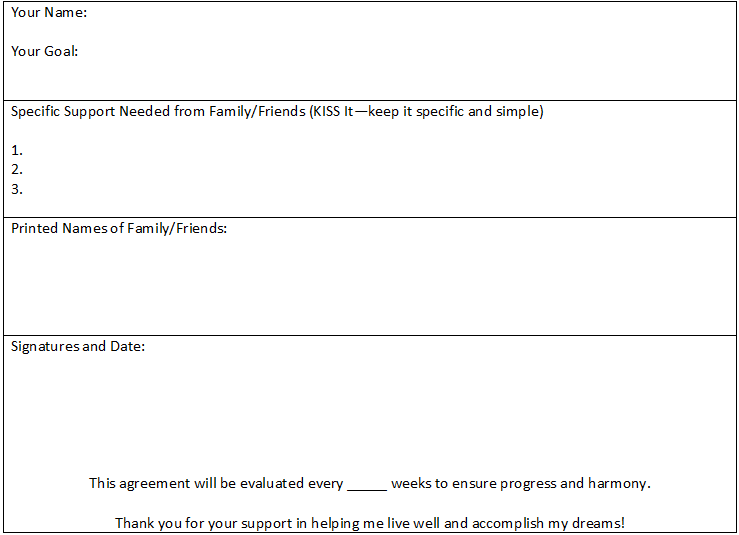 This is a sample template; however, you can design whatever works best for you. The point is that once something is in writing, it will be more likely to come true. There is power in the pen when it comes to commitment. Plus, it provides a safe way to engage in discussions that can be tough to broach with those closest to you.
All the best to you as you accomplish your goals!
Investing in Your Marriage
1. Marriage requires a HUGE INVESTMENT. Are you getting a sufficient ROI?
2. Did you invest enough only to yield a sufficient ROI or did you do what it takes to yield an ASTRONOMICAL ROI? High yields require risk and vulnerability… We submit that it's worth it!
3. FYI: Sufficient often suggests bare minimum. To have the marriage that keeps you two from becoming strangers, you must go above and beyond which INCLUDES investing in yourself.
"Marriage, being the enormous thing it is, means we are NOT the same person after we entered the union… problem is learning how to love and care for the "stranger" to whom you find yourself married." --Stanly Haurwes
In celebration of our anniversary month (and for those of you who share an anniversary with your spouse this month), here is a little nugget to consider:
Please make sure you don't allow life and/or the kids to create strangeness in your marriage or worst cause you to be strangers living in the same bedroom.
Be intentional about investing in your marriage.
Last call for Come Play with Your Spouse session at Baobab Village Wellness. Invest in your marriage this weekend! It will yield high returns!
Last day to register is Thursday, August 17th at 8pm. Registration is $25 per couple. If you need to register in person please come to Baobab Village on Thursday, August 17th from 1pm-8pm.
In good health,
Team Fitzgerald